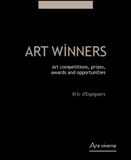 Art winners – art competitions, prizes, awards and opportunities
Artistic competitions are now among the most objective and appreciated instances of legitimization of contemporary art. Their results refine the purely commercial rankings of artists, confirming or relativizing the ratings and evaluations. Their endowments and awards also provide substantial resources and income and exhibition opportunities for artists.
This book is a reasoned selection of the 120 best and more endowed of the world's artistic competitions and prizes, distributing over $7,500,000 in rewards, with their access conditions, their endowments and the list of past and present laureates and winners. This extraordinary work lists more than a thousand artists who are or will be making the contemporary art of tomorrow. Result of a rigorous methodology developed within the Arte fideis institute, it offers:
– artists essential information on the most eminent paths to fame and to success in the art world.
– art lovers, collectors and art professionals a tool to appreciate and anticipate the best trends in contemporary art.
#Author – Dr Eric d'Espiguers is an author and professor, after having been the director of an economic evaluation centre and then a wealth strategy consultant specialising in art. He is notably the author of Art and investment and Art prices and value published by Ars vivens.
#Key findings – Art winners 2020
#Art winners – the book – 204 p – ISBN 9782916613550
19,99 € (ebook) – Buy it now
#artwinners #artists #contemporaryart #artcommunity #artaward #artprize #artcompetition #artcontest #artlovers #artcollectors #artworld #artbusiness #kunst #kunstpreis #art #contemporaryart #artnews #emergingartists